Spokane Home
and Business
Security Alarm Specialists
$79.00 Installation Special for Security Systems! Call today for quality equipment and service you can count on.
Total Security is Locally Owned
Based in Spokane, Washington, we offer complete home security systems as well as a full product line for business security systems. Because we are here in Spokane, we service our own home and business security accounts, no need to wait for 'out of towners' to return your phone calls and show up. Call us today for a FREE security assessment for your home or business.
Get a $100 Reward for Referrals!
Supplement your income in tough economic times, or just help a friend or family member make their home more safe and secure. Refer us a new alarm installation client and get $100.00 cash from Total Security! Restrictions apply, ask us for more details.
Total Security Inc. Feature 4 YOUR HOUSE
We have been using Total Security for our home and business for almost 20 years. The service has always been excellent. Yesterday they again surprised me with their excellent service. I called to upgrade and update our system, WOW! same day service! As always the service was professional, and the system was thoroughly tested when finished.

Total Security Inc is fantastic. I am the Assistant Manager at the UGM thrift store, and we are protected by Total Security. Every time we need something repaired or installed, they respond quickly and efficiently. One of their employees, while he was here as a customer, fixed something for us while he was off shift. And that's the thing about Total Security; they care.

Mike and his crew are incredible. They came out for an emergency on a Sunday at no extra charge and have incredible customer service. They talked and found out exactly what we needed and didn't try to sell us what we didn't absolutely need. They check in regularly to make sure we are satisfied and see if we have questions.

Home & Business Monitoring by MONI Smart Security
We proudly offer MONI Smart Security Monitoring. They not only offer very competitive pricing, they also have an A+ BBB rating and recently were ranked highest against five other top home security brands by J.D. Power and associates.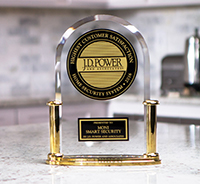 SkyBell Video Doorbell
SkyBell is a smart video doorbell that allows you to see, hear, and speak to the visitor at your door whether you're at home, at work, or on the go. It works by alerting you via a phone app you install. When someone rings the bell, you are notified and are able to use audio and video to see and speak to the person at the door. It is a great security precaution at home or when you are away.