Total Security is Free for the asking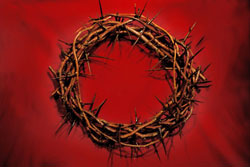 What the Son did on the Cross gives us all Total Security. At Total Security Inc. we choose to live our lives according to:
Proverbs 3:5-6 Trust in the Lord with all your heart and lean not on your own understanding; In all your ways acknowledge him, and he will make your paths straight,

John 3:16 For God so loved the world that he gave his only begotten Son that who so ever believes in him shall not perish but have eternal life. For God did not send his Son into the world to condemn the world, but to save the world through him. And finally

Romans 10:13 Everyone who calls on the name of the Lord will be saved.
No security company can guarantee that no one will ever break into your home. If they tell you that, they're not telling the truth. I believe there is only one truth and Jesus made it plain and simple in
John 14, 1-4, 6 Do not let your hearts be troubled. Trust in God; trust also in me. In my Father's house are many rooms; If it were not so, I would have told you. I am going there to prepare a place for you. And if I go and prepare a place for you, I will come back and take you to be with me that you may also be where I am. You know the way to the place where I am going… I am the way and the truth and the life. No one comes to the Father except through me.
Now that's the Only Total Security!! And best of all, it's free for the asking! May God bless all of you who have discovered the not so hidden truth.